Ever since the release of Fall Guys: The Ultimate Knockout in 2020, the surrounding excitement has been growing tumultuously. This game was released for Microsoft Windows and PlayStation 4. It was later planned for release on Nintendo Switch, Xbox One, and Xbox Series X/S in 2021. 
The adorable little bean characters dressed in exotic costumes completely entranced the gaming community. By pitting against each other, the beans take part in what we can only describe as an entertaining series of competitive mini-games.
This fast-paced battle game initially starts with the bean (your avatar) clash against 60 other such beans in large-scale and exciting game formats, with only one winner. For example, in one game called Hoopsies, participants must team up in an obstacle course filled with hoops. Jump through the ring, and you're the winner!
Fall Guys is currently in its 5th season and contains over 25 hilarious and colorful mini-games. Each of these is creatively advanced and challenging in its own way. Moreover, this is a highly exhilarating game and what makes it more enjoyable is sharing such gaming thrills with your friends.
How To Send Invites To Friends In Fall Guys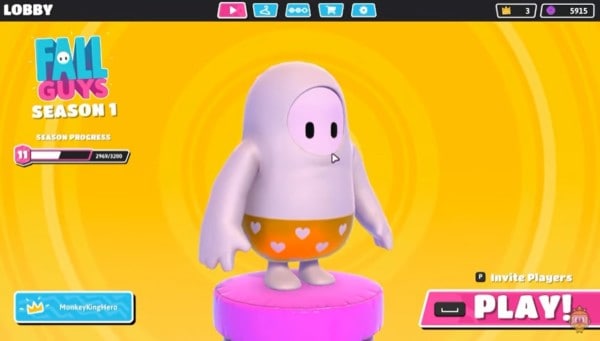 Fall Guys is a game that was designed with a multiplayer setting in mind. It is available on the PS4, PC, and Xbox. As mentioned before, the game starts with 60 bean-like emotes, which then becomes an all-out war in a race against time.
The games continue until the last person standing is officially declared as the winner and receives the crown. The more crowns a player gets, the more skins they can purchase, which are then used as colorful clothes on each bean. They represent the number of levels a player has won.
All this sounds incredibly exciting; however, playing with 60 strangers online is hardly as fun as rocking the game with friends. 
Fall Guys allows up to 3 other people, excluding you, to team up together. Hence, teams of not more than four are created. There are two ways you can team up:
To Invite Friends On Fall Guys Through PC: 
Step 1: Open fall guys, and you will see your bean on a small podium on the main menu.
Step 2: Press 'P' on your keyboard. A dialog box will open up with a list of all your friends. Click on the usernames of the friends you wish to invite.
Step 3: Now wait for your friends to accept the invite. 
Step 4: Once your friends join, the screen will zoom out, and you can see your friend's beans standing next to you.
To Invite Friends On Fall Guys Through PS4:
Step 1: Open fall guys, and you will see your bean on a small podium on the main menu.
Step 2: Click on the button with the image of a triangle. A dialog box will appear with a list of all your friends. Click on the usernames of the friends you wish to invite. 
Step 3: Now wait for your friends to accept your invite.
Step 4: Once your friends join, your screen will zoom out, and you can see your friend's avatars standing next to you.
How To Accept Invites From Your Friends On Fall Guys 
Once your friends have sent you an invite to play fall guys with them, you will receive a pop-up notification on your PC asking you to accept it. Simply click on accept, and you're good to go. 
However, some of you may notice it takes several tries for the invite to pop up. This is because Fall Guys is still a new game that only gained popularity through the pandemic years and, hence, mildly glitchy. The developers are adding updates based on the gaming community's wishes!
Bonus Read: A complete beginner at playing Fall Guys? This guide is your savior!
Thus, if you're facing any problems with the invite, refreshing your PC or your gaming platform ought to do the trick. If it's still not visible, ask your friends to send an invite once more, and you'll 99% be ready to join in on the hysterical chaos. 
How To Create A Party Chat On Fall Guys
Unfortunately, Fall Guys doesn't have a chat feature to discuss while playing the same. But not to worry, there are some ways you can converse while playing. Keep reading for some super cool communication mediums!
All PS4 gamers can access the party chat through the PlayStation network and connect to their squad. Remember, the party chat usually is disabled. You'll need to click and manually enable it. Here's how to create the party chat:
Step 1: Visit the PS4 homepage
Step 2: Scroll up and search for the party chat
Step 3: Click on Create Party
Step 4: Create a party name of your choice and add a party limit
Step 5: Click the box 'next' to make this party private if you wish
Step 6: Choose your friends from your list and click on the invite
If you're playing it on the PC, there are alternatives similar to a party chat. 
Discord is a reasonably famous application used by gamers worldwide to stream games. The voice chat is clear and easy to understand for newcomers. Another alternative is Steam, which has the same features but lacks quality. Though there is a chat section in it, we do not recommend it as much as Discord, since Discord's features and voice quality are much superior to that of Steam's. 
Note: There is no extra step over here that needs to be taken for playing Fall Guys. The instructions are the same as it is for any other game.
Battlepass
The in-game shops are pretty diverse, and we can use crowns to buy limited edition skins. Fall Guys gamers can acquire crowns through winning matches or through the in-game battle pass system. Even better, since the store often refreshes, new skins are available to buy and show off online!
Fall Guys has a battle pass system in place since season 1. There's a free and paid version of this battle pass that you must spend real-world currency on to buy. What's more, gamers pocket exclusive skins by unlocking them as they progress to higher levels in the battle pass. 
Guess what? You also get crowns through battle pass!
Cross-platform In Fall Guys
The cross-platform feature brings convenience amongst gamers relying on various consoles. This has enthralled the gaming community and created a deserving hype for the game's success. Hordes of gamers can now play together regardless of the differences between the devices they use.
In the earlier version of Fall Guys, this all too essential feature was not available, which frustrated the more significant part of the gaming community. The developers finally made an update last May, and the cross-platform feature is now officially available in Fall Guys. 
However, there are some restrictions. The feature is available only for PC and PS4. It is not available for Xbox because of a variety of technical reasons. Another limitation is that this feature does not apply to live shows. In short, it's applicable only for the groups playing in the custom shows.
Custom And Live Shows In Fall Guys
There are two categories of shows in this game. For the perfect Fall Guys gaming experience with your friends, let's understand both: 
The live shows are basically an obstacle course resembling a battle royale where 60 players compete to advance to the last stage and win the crown. The crowns earned here are used to buy new and exclusive skins to brag to your competitors. 
Fifty different maps form a variety of stages until all but one player remains. In every stage, there is a specific number of people that fail to finish the level. This is how the eliminations take place. Not to forget, medals and awards are also rewarded only in the live shows.
This category was created from season 3 onwards, where players who knew each other could form a team and play independently. The minimum requirement for the number of players required to play the game is four. 
It has several features, like the ability to select from a wide variety of playlists with the option to pin some of them as their favorites. Moreover, it has a list of players present in the lobby and the option to kick any of them out anytime. Additionally, it contains the previously mentioned cross-platform lobbies, which are not accessible for the players in the live shows. 
Remember that awards aren't recognized in this category, and overall, it's primarily used to complete daily challenges. The number of maps for custom shows is limited as well. However, they are looking to increase the maps in the upcoming season's game.
Note: All medals in all rounds are pink-colored.
How To Host A Cross-platform Game In Fall Guys
As mentioned earlier, the cross-platform feature is available only on custom shows. Here's how to host one.
Step 1: Click on the Custom Shows category and select the Host option. Several options will be presented to you.
Step 2: Go to the Show Selection menu and select the game mode from the primary and alternative tabs. 
Note: Most of these game shows require a minimum of 12 players. Only certain games like Hex-A-Gone trials and Jump Around options require a minimum of 4 players. 
Step 3: On top of the screen, there will be a 5-digit code. You can choose to show or hide it with the press of a button, especially if you want to hide the code for public streams.
Step 4: Once the minimum number of players has arrived, you can start the show.
How To Join A Cross-platform Game 
You can join the game through a PC or a PS4. Here's a simple two-step process: 
Step 1: Go to the custom shows menu
Step 2: Click on 'Join' and enter the five-character code the host has given you. This code will merge PlayStation and PC Fall Guys players
Verdict 
Despite the hype surrounding Fall Guys, gaming enthusiasts agree that some work is required to make it more socially enjoyable. Fall Guys is a chaotically pleasurable game that depicts the "survival of the fittest" mindset in a hilarious and adorable. What's best, it tests our mental aptitude and our ability to adapt ourselves to the controls of the game.
For non-heavy gamers, playing such an adventurous game with your friends helps you relax and creatively use your mind. We sincerely hope you're now aware of how to play Fall Guys with friends!
Enjoy a spicy and cheeky time with your friends, trying to overtake one and another and get to the top. 
Bonus Read: Want to know how to win this game? We've curated an entire guide with ten tips and tricks on becoming a pro Fall Guys player.