Exploring secluded islands in search of unknown treasures, pirates rivaling the likes of Jack Sparrow can band up to form a crew in Sea of Thieves. The game boasts an impressive open-world sandbox offering players to live out their wildest pirate fantasies and more.
The action-adventure game stands out from other competitors because the majority of items players unlock are purely cosmetic. In other words, no pirate has the upper hand, regardless of the time they have spent in search of treasures. 
The ideal way to gain cosmetics is by spending ancient coins in the Pirate Emporium. Therefore, this guide will teach players to get ancient coins in Sea of Thieves to spend on their pirate gear.
How Does The Pirate Emporium Work?
Before gaining some ancient coins, let us first explain where to spend them. The Pirate Emporium is the in-game store, providing pirates the choice to purchase exclusive cosmetics, potions, and weapons to enhance the experience of a pirate's next adventure. 
Users categorize the Pirate Emporium based on what the shopkeeper can trade for ancient coins. They are:
Pirates can own a sidekick to explore the seas together. For that, pets need to be bought from the Pirate Emporium by spending ancient coins. Players can buy a large variety of pets, including breeds of cats, dogs, monkeys, and parrots. 
Moreover, these companions can dress up in a plethora of pet skins. This means that pirates will never run out of options to make their pets stylish. 
Various interactions can take place between the player and the animal, bringing more life to these creatures. 
This category exists to get pirates well-equipped for their next sea expedition. Players can buy emotes to entertain and interact with others. Additionally, pirates can put on different costumes, making them fashionable and stand out from the other Sea of Thieves players. 
Pirates buy equipment like weapons and potions to increase their chances of survival while facing the challenges of the sea.
There's no better way to intimidate enemy sailors than by having a menacing ship to travel on. The Pirate Emporium offers exceptional ship sets for players to ride on. Other games made by Rare Ltd inspired some ship sets in Sea of Thieves. For example, there are Halo-themed ships for fans of the first-person shooter.
Pirates in a festive mood can acquire seasonal items for a limited period in the Pirate Emporium. Seasonal items are always cosmetic and will not be available for purchase after the season ends. Make sure to not miss out on these transitory items!
After navigating through the Pirate Emporium, players presumably don't want to depart without buying something for themselves. To do that, players need some ancient coins first. 
Bonus Read: Fellow pirates looking for an adventure should check out this guide on how to obtain the Sea of Thieves' curses for achieving more rare items in-game. 
How to Get Ancient Coins with Micro-transactions
The easiest and most efficient way to gain ancient coins in Sea of Thieves is by purchasing them with real money. Users can buy ancient coins through the Microsoft Store and from a representative of the Pirate Emporium. Regardless of the method, ancient coins are bought in bundles through micro-transactions. These are the bundles rated from least to most expensive: 
Secret Stash of the Ancients: 150 Ancient Coins

Lost Chest of the Ancients: 550 Ancient Coins

Hidden Trove of the Ancients: 1,000 Ancient Coins 

Royal Treasury of the Ancients: 2,550 Ancient Coins 

Glittering Tribute of the Ancients: 4,250 Ancient Coins 
Each of these bundles caters towards the Sea of Thieves users, depending on the items they desire to buy. For example, we recommend pirates needing a pet sidekick to purchase the Lost Chest of the Ancients.
How to Get Ancient Coins With The Battle Pass
Another way of gaining Ancient Coins is by completing the Battle Pass, also known as the plunder pass. This option includes hundred different tiers for pirates to achieve by completing objectives. Finishing these tiers will reward players with cosmetics, emotes, and even the premium ancient coins pirates are on the lookout for.
However, players need to spend a thousand Ancient Coins to buy the premium plunder pass to collect these items. According to the developer, it'll be an excellent investment as players will achieve items worth four times the price. 
The game renews the battle pass every three months with a brand-new season. The plunder pass items are exclusive to their owners. This means that once the battle pass ends, other players can never unlock the items in the future. 
The free plunder pass gives a hundred ancient coins, and the premium pass will reward players with 250 coins pirates to add to their stash. Therefore, it isn't an ideal way to get ancient coins in Sea of Thieves.
The battle pass should be considered if players desire the items in the battle pass and see ancient coins as a bonus. 
However, there is another way for players to get a lot more ancient coins for free by playing the game. 
How to Get Ancient Coins With Skeletons in Sea of Thieves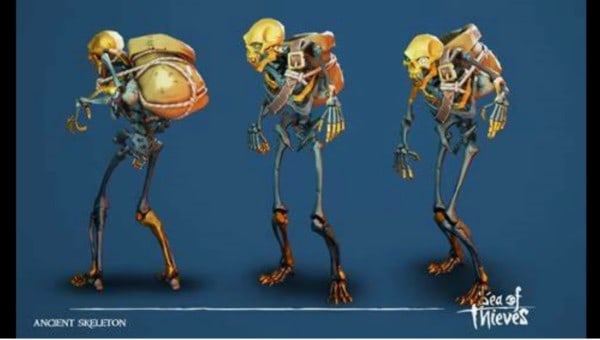 We recommend pirates on the lookout for ancient coins to hunt down ancient skeletons. It's the most effective way to get these coins for free. Sea of Thieves players can find these undead creatures on the island shore. 
Pirates identify ancient skeletons with blue and gold bones and have a large sack of coins on their backs. They dig their way up on the sand during an encounter. Additionally, Sea of Thieves players should keep their ears sharp for any sound of coins dropping on the floor. 
Once found, pirates have twenty seconds to put them down. Moreover, skeletons attempt to flee once approached by pirates. They aren't powerful, but if players miss their shot, they'll bury themselves underground and disappear. 
Ancient skeletons are extremely rare to find, so pirates should make the best out of the opportunity. The ancient coin reward will consist of:
Skeleton's Ancient Stash: 100-200 ancient coins

Skeleton's Ancient Fortune: 200-400 ancient coins

Skeleton's Ancient Hoard: 400-800 ancient coins
Skeleton's Ancient Stash is the most common selection dropped by the skeletons, with Skeletons Ancient Fortune and Skeletons Ancient Hoard having a much lower drop rate. Now that players are familiar with Ancient Skeletons, the next objective is to hunt them down.
How to Find Ancient Skeletons in Sea of Thieves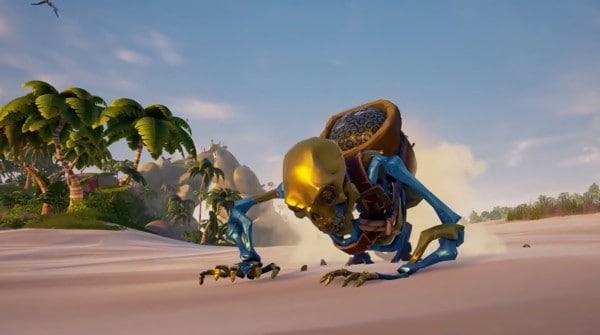 Ancient Skeletons spawn randomly near players on islands in Arena or Adventure mode. They often spawn alone, meaning Sea of Thieves players will have plenty of time to hunt them down. Above this, they have a higher chance of appearing in areas with higher player density. 
After defeating the skeletons, the game rewards ancient coins to the crew that kills the mythical creature. However, the game does not offer the prize to other units within the alliance. 
Keeping this in mind, here are some tips to increase a pirate's chances of finding ancient skeletons:
Pirates should explore the entire island to increase the chances of encountering an ancient skeleton. The more time Sea of Thieves players spend on an island, the higher the spawn rate of these creatures becomes. 
The best way to keep pirates busy while lingering around the island is to find supplies for the ships, looking out for treasures. Doing these activities will make productive use of time while looking for skeletons. 
Sea of Thieves players will not encounter an ancient skeleton regularly. In fact, pirates may encounter these undead creatures once after eight to ten hours of playtime. Therefore, it's best to complete some voyages while being on the path of discovering ancient skeletons. 
During voyages, players will spend an ample amount of time on the island while completing the objective. That'll help pirates amplify their luck at finding a skeleton with a massive stash of ancient coins!
Players don't need to be mobile to have a better chance of discovering an ancient skeleton. Instead, they can relax and spend time on the coast looking for some fish. Remember, pirates need to keep their ears sharp to drop their fishing rod after hearing a skeleton.
It's recommended to spend less than 30 minutes fishing before switching to another island for pirates that don't detect a skeleton nearby.
Keep Listening for Skeletons
An essential tip while searching for undead creatures is to keep a pirate's ear sharp. Don't listen to music on high volume, or you'll miss out on the jingle when ancient skeletons spawn. 
For those who don't know, there are 20 seconds between the jingle and the skeleton burying himself under the island. And we understand, for Sea of Thieves lovers, there's nothing more heart-breaking than encountering an ancient skeleton and missing out on the opportunity to eliminate them. 
Make to keep sound on during the night because spotting the undead becomes problematic in the dark, leaving pirates confused about the direction they should keep their eyes on.  
Finding it difficult to hunt down ancient skeletons alone? The pirate crew got you covered! The pirate crew members can assist players in the search for the ancient skeletons. Once a crew member discovers and slays the blue and gold skeleton, the game distributes the reward to all crew members.
Keep each crew member on a different island while doing some activities to kill time and increase your odds. This way, pirates can cover more ground and fill up their stash of ancient coins. 
With these nifty tips and tricks, players can collect a bunch of coins to spend on items in the Pirate Emporium!
Bonus Read: Assassins wandering around the plains of Asgard should check out this guide on how to find Indra Holm in AC: Valhalla for a better exploration experience in Assassins Creed.
How to Form a Crew With Your Friends in Sea of Thieves
Having a crew makes life a lot easier for pirates hunting down ancient skeletons. Even though Sea of Thieves boasts a fantastic community, forming a team with friends is an experience like no other. We will explain how to form a crew with friends for pirates to gain more ancient coins together. 
First, players need to send a friend request to both PC and Xbox users through the Windows 10 Xbox application. To add people from the application is reasonably straightforward by following these simple steps:
Sign in to your account in the Windows 10 Xbox app.

After launching the application, locate the Friends section and type in the username.

Select 'Add friend' to include them in the friend's list.

Choose the user as a friend or favorite. That'll help players send additional details for better identification. 

Click OK and wait for them to accept the invite. 
After adding friends using the app, players can form a crew with their friends in Sea of Thieves. To do that, start up the game and select the crew size. Choose a Sloop for a crew of two and a Galleon for four players. 
After picking the crew size, a prompt appears on the screen, allowing players to invite one or three of their friends. Once everyone has joined the lobby, click set sail to begin the game. Random pirates looking for another adventure will fill any open slots left by the crew. 
Verdict
It's not recommended for players to grind for ancient coins as it's a grueling process. Get involved in various adventures the game offers, and ancient skeletons will appear eventually. 
Now that players know how to get ancient coins in Sea of Thieves, we wish the best of luck on the high-seas to the online pirates and sailors worldwide! 
Bonus Read: Jump and tumble your way to victory with colorful bean-like creatures by checking out this guide on how to win in Fall Guys!