The Elder Scrolls V: Skyrim is about nine years old.
However, it's still one of the most popular open-world games in existence.
Skyrim lets you explore an immense landscape full of dragons, giants, and other beasties.
It's super annoying when that fun gets ruined because your graphics are glitching out all over the place.
Capping the FPS on Skyrim could be the solution.
Why Cap FPS in Skyrim?
Wondering why you'd ever put any limitations on a game like Skyrim?
Well, because this game is so huge, it can cause issues with a lot of PCs. According to Bethesda, a framerate of more than 60 FPS can mess up the game's physics.
Capping your framerate also has other benefits, such as:
Reducing your energy (battery) consumption
Reducing heat production (no more scorching your lap)
Reduced noise (the cooling fan doesn't run as hard)
Capping your framerate is particularly useful for a laptop user because it prevents you from eating up your battery and setting fire to your crotch. If your frame rate usually hovers around 55-75, capping at 60 FPS will reduce those laggy moments when you feel like you're not getting anything done.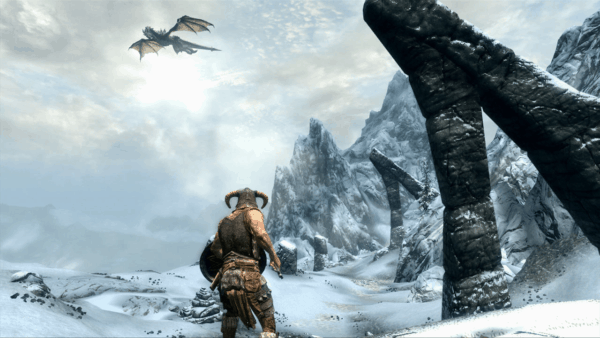 Setting a Hard Limit
One option is to try setting a hard limit on your Nvidia Profile Inspector program.
Under the Sync and Refresh option, you can see Frame Rate Limiter. Here, you can enter the number you want by hand. If you type 60 FPS, then you'll see 3C in hex; that's fine.
Click on Apply Changes in the top right corner. Remember, you'll need an updated version of the Nvidia profile inspector here. Fortunately, you can choose whether to set the limit on a per-program basis, or as a global limit.
Just click on The Elder Scrolls V as your option if you're hoping to cap Skyrim and nothing else.
You can also turn on VSYNC in your game.
If you have VSYNC switched on, you shouldn't have to set a manual cap too.
There's also a setting in the in-game menu, which allows you to switch on the Frame Limiter for any FPS you want.
Should You Ever Increase your FPS?
Learning how to cap FPS in Skyrim is just one part of the puzzle for some gamers.
If you have a beast of a desktop computer and you want to see what your game can accomplish at full pelt, then you could consider using a mod.
A Modder called SlavicPotato released an Elder Scrolls V refresh rate unlocking mod that allows users to access higher framerates.
This is a bit of a risky move as you're forcing your computer to take on a lot of extra work. However, if you know your PC can handle it, then you can always give it a go.
The good thing about this mod is that it works passively in the background. The service updates your in-game refresh rate from about 60 Hz to around 300 Hz.
Master your Skyrim Refresh Rate
Although Skyrim can operate at over 60 FPS, most people should probably avoid pushing the game too far. Ultimately, the Bethesda developers recommend not doing this. Even with a great PC, you could find that you encounter a bunch of problems with the game's physics engine.
If you want to avoid issues entirely, we'd recommend capping the refresh rate at 60.
Looking for a different game to play? Check out our guide for Civ 6's best leaders.